Combining science, technology, and investment expertise
Investments in private markets are dominated by professional service firms organized as partnerships. At equation, we had the opportunity to start without legacy. This allowed us to rethink the traditional operating model of investment firms across the entire value chain from the ground up. Our aim was to fundamentally break away from all known constraints of the investment industry to develop a new way of allocating capital in the most meaningful way.
We have assembled a team of scientists and developers so that data and software engineering can permeate all investment functions. Equally, our data science and engineering team is exposed to investment processes. This provides for daily operations in which data-driven analytics and software-based work flows are measured against their contribution to better investment decisions.
Our foundation: Scientific methodology and insight
We build upon decades of empirical literature on private market research. Prof. Braun has played a vital role in this continued effort to obtain reliable knowledge with scientifically rigorous methods for over a decade. He has collaborated with such distinguished private market scholars all over the world such as Ann-Kristin Achleitner (TU Munich), Josh Lerner (Harvard Business School), or Tim Jenkinson (Oxford University).
Processing exponentially growing data
Data is the essential resource that makes scientific knowledge applicable in the daily activity of investing in private markets. Private markets are full of information asymmetries. The exponential growth in structured and unstructured data provides an unprecedented opportunity. We have built an infrastructure that ingests data from various sources and through different channels. Public markets have the benefit of more data availability, with the downside of all market participants being privy to it. We originate data from a variety of sources and combine them in creative ways for the benefit of our investors.
Schematically, we obtain data in three ways. First, our own investment activities provide a evergrowing stream of data and our data team constantly crawls publicly available sources. Second, commercial data bases are benefitting from the growth in private markets and provide ever more granular data on the global market landscape. Third, data partnerships enhance our efforts whereever possible.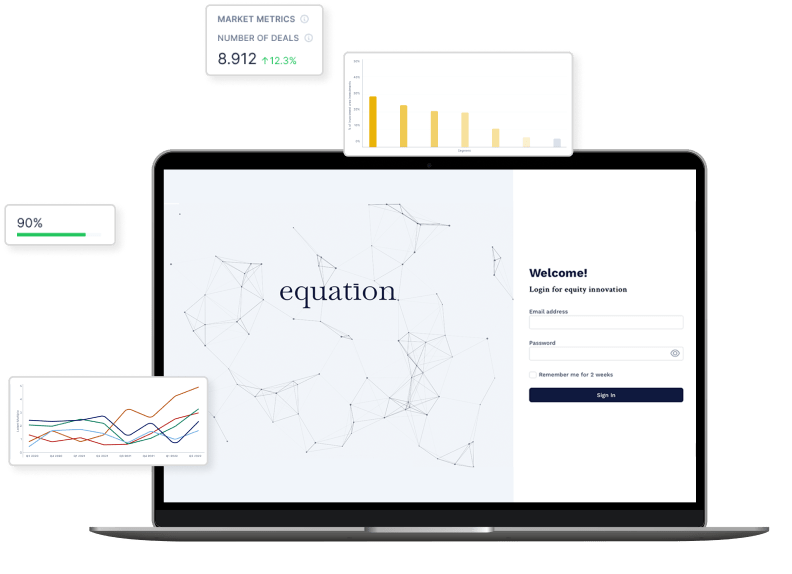 Products fueled by science and technology
All previous steps ultimately culminate in financial products fueled by science and technology. Equation's products are constructed in a sound manner, take advantage of scientific knowledge and are made possible by a state-of-the-art technology platform generating informational advantages everyday.
Analytics Platform